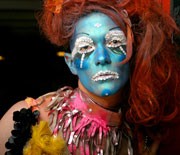 In 2007, the then Nuffield Theatre Director Matt Fenton proposed not to programme anything for one year. The result was an award-winning programming experiment
The theatre's Autumn 2007 season was put together by 12 professional artists, each invited to present the most exciting piece of work they had seen recently. Artists selecting work included Kazuko Hohki, Matthew Goulish (Goat Island), Tim Etchells (Forced Entertainment), Gary Winters (Lone Twin), Sonia Hughes, Uninvited Guests, Jane Scott Barrat (Ludus Dance), Adrian Howells, Gary Robson (Fittings Multimedia) and Ben Faulks. The result was a fantastic and international programme that included Taylor Mac (USA), Rosie Dennis (Australia), Hofesh Shechter, Cupola Bobber (USA), Tim Crouch, Rajni Shah and Miet Warlop (Belgium).
In a bolder move, we then placed an advert inviting local residents to repeat the experiment: to take the theatre's programming budget, a big bag of dvds and the chance to see any theatre or dance events they chose, and then invite their own programme of work to the theatre. 7 people accepted the challenge (Jill Anderson, Janice Bradshaw, Cressida Graves, Anne Greenwood, Cliff Laine, Carol Ostermeyer and Franklyn Weber), and they spent several months putting together an extraordinary programme of shows and events. Their season included Augusto Corrieri, Vincent Dance Theatre, Ockham's Razor, Maresa Von Stockert, and the UK premiere of Belgium's Abattoir Ferme.
The project won Arts Council England's Art08 Award for 'Innovative ways that great art has found its way into people's lives'.
Now the Nuffield Theatre is part of Live at LICA, the project has informed a raft of subsequent projects, including the Peter Scott Gallery's Conversations With the Collection curatorial series. This 3 year project (2009-12) has seen artists, gallery support staff and young people given curatorial control to create exhibitions and new artworks in response to the gallery's diverse art collections.