The Nuffield Bursary 2017: Call for artists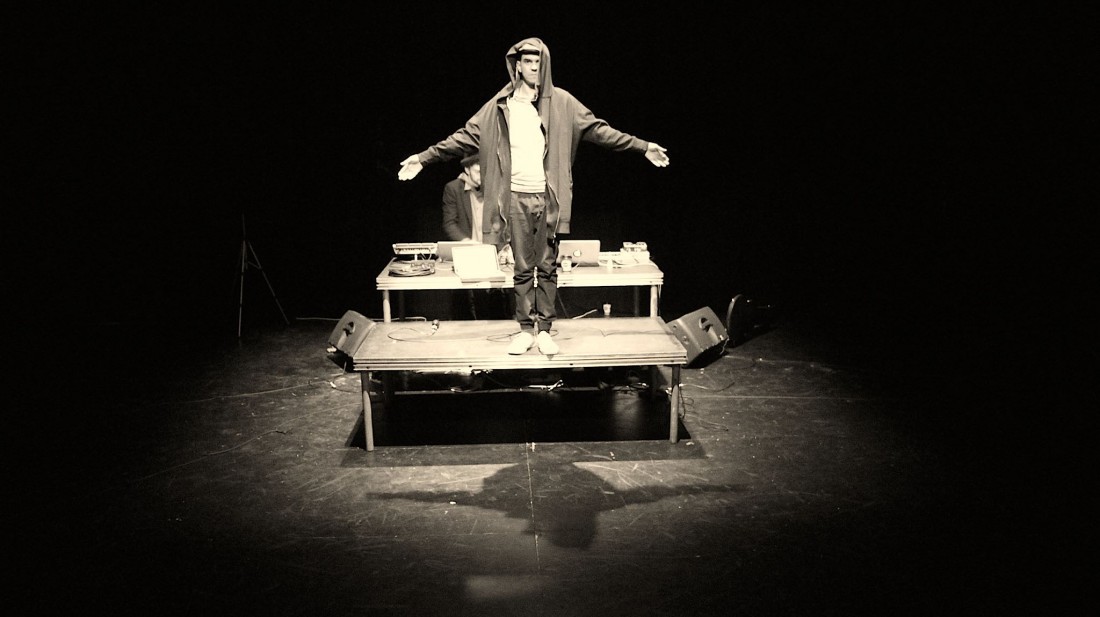 Lancaster Arts' Nuffield Theatre has been described by The Guardian as "the place [in England] to see the most innovative new work." Over many years the space has been synonymous with innovative risk-taking performance work linked to a world class Theatre Studies teaching programme.
In acknowledgement of this legacy Lancaster Arts is seeking applications for the second Nuffield Bursary: a practice-based initiative offering one artist, company or collective the opportunity to undertake a supported residency including the use of its extremely adaptable 220-seat Black Box/Studio Nuffield Theatre. Lancaster Arts actively supports the development of artistic practice across contemporary performing arts, visual arts and classical music.
The 2017 bursary offers:
1 x 2 day initial exploratory residency in May 2017 during Lancaster Arts' OPEN programme 15th & 16th May
1 x 7 day period working in the Nuffield Theatre 11th - 17th September (including 5 days with technical support)
Regular dramaturgical feedback from Lancaster Arts Creative Producing team
2 x 1 hour formal mentoring sessions
Up to 1 day fundraising support from Lancaster Arts Creative Producing team
Additional rehearsal spaces/creative time in other suitable spaces (subject to availability) on Lancaster University campus
A cash investment of £1,000
Previous bursary winners Needless Alley Collective said of the scheme:

"Receiving the Nuffield Bursary was an invaluable experience for us as a collective and as individual makers. It allowed us to have the space and resources to explore our practice on a larger scale and lay down the foundations to further our experimental aesthetics without the pressure of churning out a show at the end of it."
Further details:
The Nuffield Creative Bursary begins with a two-day period of structured creative exploration of the bursary recipient's ideas within the context of Lancaster Arts' OPEN programme.
During the September period of the Nuffield Creative Bursary, you will be working with LICA Technician David McBride, providing the opportunity for technical dramaturgy to experiment and devise with various technologies including lighting, sound and projections.
Between these residency periods and thereafter, if desired, the bursary winner will have the additional option to book suitable rehearsal space (though this will not be supported by a technician) subject to availability and present a work-in-progress showing. Mentoring sessions can be held in person or remotely as preferred at any time.
How to apply:
To apply for the Nuffield Creative Bursary please email one side of A4 to producers@lancasterarts.org outlining your intentions for use of the space, how working with a technician and the Lancaster Arts team would benefit your practice and how you would spend your £1,000 towards expenses/materials. Please also include a short biography/artist statement and up to 3 links to further information supporting your application. Please apply by 11th April 2017 at 12noon.
Notes for applicants:
- The Nuffield Creative Bursary is aimed at practitioners seeking to make a live work for the stage. Proposed work can be live art, contemporary performance or interdisciplinary arts for any age group.
-We are particularly keen to hear from applicants based in the North of England. However the Bursary is open to all including those based outside of the UK.
-We encourage applications from practitioners working across art forms and media, such as visual artists making performance or contemporary dance makers working with composition.
- Applications will be assessed by Lancaster Arts Creative Producers Alice Booth & Leo Burtin and LICA Technician David McBride*.
- Technical specifications and dimensions of the Nuffield are available from our website and further information may be available upon request.
- It is possible to view the Nuffield Theatre prior to making an application, please email liz@lancasterarts.org to arrange a suitable time for this and note that viewings can only last a matter of minutes.
-Shortlisted applicants will be required to provide information in advance stating how they anticipate to work with David McBride and what technical equipment they anticipate using.
-The Bursary winner/s will be required to contribute a minimum of two posts/videos to Lancaster Arts' online comments section during the bursary period.
*David McBride is a lighting designer, sound engineer and performance artist employed by Lancaster University as a technician at the Lancaster Institute for Contemporary Arts,with special responsibility for the Nuffield Theatre. He is enthusiastic on matters of technology, creative storytelling and coffee.
His support of Forced Entertainment during the development of The Notebook at the Nuffield Theatre led to his involvement in their European tour, and in the past season he has given creative support to residencies by Neil and Simone and Hetain Patel.
David is particularly experienced at considering the possibilities and limitations of technology early on in a creative process, in order to facilitate the creative integration of technical components and smooth-running tours. In addition to briefer periods of consultation he has taken on more sustained devising and performance roles with companies such as Proto-type Theater and Drunken Chorus.
Illustration photograph: 2014 Bursary Winners Needless Alley Collective, featuring Xavier De Sousa