Daniel Bye: information about an experience, without the actual experience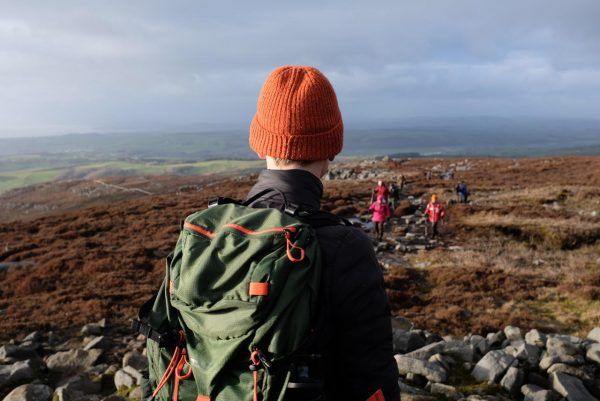 The Sunday before everything shut, I was on a long walk with a choir. We walked from the end of Morecambe stone jetty to the top of Clougha Pike, the peak overlooking Lancaster and Morecambe. We walked, as far as possible, along public footpaths, canal towpaths, byways and other rights of way. Along the way we sang an original song.
The Sunday before, I did the same thing with a different choir, from the centre of Stockton to the summit of Roseberry Topping on the edge of the North York Moors.
Yesterday morning in the shower I found myself singing the Roseberry Topping song. Only when my daughter asked me what it was did I realise that's what I was singing. Then that evening she sang it to her baby brother in the bath.
During the weeks and months ahead I'll treasure my memories of those two Sundays. Long days in company feel very distant at the moment, and I have to remember that they are in the future as well as in the past. The future is invisible, thus harder to cherish, but even as the work cancellations keep eating up the way ahead far beyond the horizon, I'm trying hard to embrace whatever comes. Two similar choir projects have been put on indefinite hold. But they will happen.
Collective singing and time in the outdoors have demonstrable and significant impacts on well-being. Likewise exercise, and for some participants 14-ish miles with a climb at the end is a considerable challenge, so you can add a sense of achievement to that list. Also meaningful activity: the songs we sang were created in collaboration with the groups who sang them, about their own relationship, as people of this place, with the peak overlooking them and their place.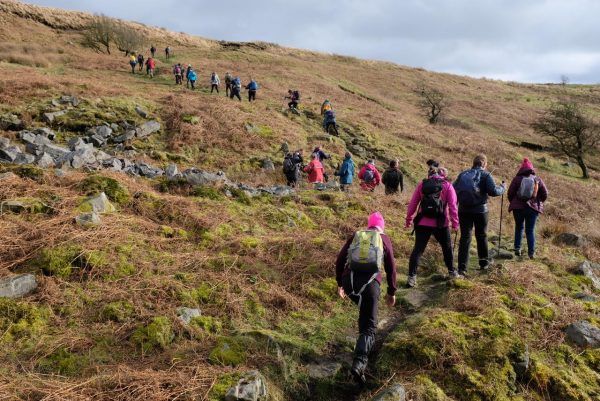 The rights-of-way routes were chosen to maximise our sense of collective ownership over the terrain. Almost every foot fell in the steps of a whole history of struggles for ownership, use, and access. As the disaster capitalists move in in the wake of this crisis, public land, and public access to land, will be immensely vulnerable and it's a fight for which we'll need to tool up. These walks, these songs, were part of that tooling up even before the suddenly mushrooming scale of the fight ahead. I will carry with me that sense of purpose I shared with those groups, as we walked and sang our collective anthem.
Everything I do, everything most of my peers in this industry do, is about gathering people together. What is any performance, indoor or outdoor, mass participation or solo, but a gathering-together in order to share an experience of what it means to be together in this world? What it means to live in this society, to share this space? What it means to navigate that shared space with others?
And now we stay together by staying apart. That's a ropey slogan, even though of course it's the correct thing to do, but it's also a surgical strike at my raison d'etre and that of my whole industry. And not just our manner but also our means of living. That slogan might function as an accurate view of how we need to model our behaviour for the foreseeable future. But we also have to be careful not to lose our sense of what together really means. ​The experience of singing together on zoom is not comparable with the experience of being within the sound we collectively make.
In the dark times, there will be singing. But it will only be available via Facebook Live. I'm thrilled by the number of companies and artists who've made their work available to stream for free, and these things will do for now. But let's be honest: these things are decaf. They're like looking at a diagram of the brain's electrochemical reaction to pleasure, rather than having the actual pleasure; they're the information about an experience without the actual experience. They're talking to your friends on Skype rather than giving them a hug.
When this is over, I imagine a hunger for communality. I imagine audiences refreshed with joy simply at being in the room. I imagine the biggest and most celebratory participatory work. I imagine artists, newly released from confinement, returning to audiences with new discoveries about what it means to be together in this changed world. I imagine a wild rumpus, a heightened togetherness, a sharpened connection, a deepened purpose.
By implication, I imagine a discrete point when this is "over". Of course it won't be as simple as that. This is the way things are to be, probably for a very long time, and the end will not come easily or cleanly. But after the dark times, oh the singing there'll be then. And we will need those songs to help us through the coming fight against disaster capitalism.
These Hills Are Ours is co-commissioned by Lancaster Arts, Beaford Arts, Eden Project, Leeds Playhouse and Shoreditch Town Hall with support from artsdepot.
---
Posted on 19th Jun, 2020