Human Rights Bingo: Meet the artists
Artists, Yael Karavan and Silvia Mecuriali are at Lancaster Arts during the week of March 6th further developing their new work, Human Rights Bingo, a surreal and entertaining alternative Bingo game where participants get to test their knowledge of The Universal Declaration of Human Rights. This will take place at Lancaster University on Wednesday 8 March and Lancaster Central Library on Saturday 11 March.
Alice Booth, our creative producer, interviewed Yael and Silvia to find out a bit more about the project:  
Alice: So, the first question is, where did this idea begin? 
Yael: We saw each other's creative work, met and liked each other.  I moved to Brighton, and we hoped we could see each other more and work together. But Silvia and I have quite a lot of work internationally, so we kept missing each other. It was only during our confinement in lockdown that we were finally able to work together.  We had these endless Zoom Meetings, rehearsing, doing warm-ups, thinking about ideas together.  
So, my father used to be an artist that was fighting a lot for human rights and for peace, and all his work was very political. He was a sculptor and a lot of his work had human rights at their heart.  In one of his exhibitions, in Italy, I was walking around and reading the human rights, and I thought, wow, I should be doing something with this, it's really important. The rights themselves were in a small booklet, and I started to read it. I thought, oh, thirty rights, that's great, because I have artist friends all over the world, and I'm travelling all the time, I can tackle one article of the of the treaty with each person. Then Silvia came to visit me during a residency in Paris and I told her my idea.  And she said, 'What about a Bingo game? Because it makes sense in relation to human rights.'   
We wanted to make a show about human rights that wasn't patronising.  That doesn't teach you, that isn't preachy.  And Bingo offers the opportunity for audiences to fully participate.   
Alice: So, tell me a bit more about that.  When you say that the bingo format works in terms of human rights, what do you mean by that?   
Silvia: Well, it's down to chance where you're born and in which situation you're born, and in what class.  All of this impacts on whether you have human rights, or whether those rights are respected.  The human rights treaty starts off by announcing that we are all equal.  But as we know, we are not all equal.  We should all have the same opportunities, but we don't. We should have the law on our side, we should all have a welfare state, but that's not the case.  Women are not equal to men.  Races are not equal.  Not all countries are democracies, and those that are still have many in-equalities.  Just thinking about this country, after Brexit, the rights of workers or asylum seekers looks different.  It feels more precarious.   
Yael: And it seems like we are in such a different moment now than when the rights were written in 1948.  Some things have changed for the better since then, but some things really haven't. All the turmoil and unfairness happening around the world made us remember the importance of our rights, and as privileged people, we are not always aware of them, or we take them for granted.  And we wanted to make something, a show, that could deepen our engagement with the rights but also play and learn together with an audience.   
Silvia: Yes, we wanted to create an environment that, by playing, we would all discover something – that is us and the participants.  We are certainly not the experts. In the show itself, we have the Management [a disembodied voiceover in the show] who knows everything, but us as characters don't necessarily know, and we're discovering with the audience as we play along with them. 
Yael: And because it is a game of chance, we don't know how the show is going to go. The bingo numbers [that correspond to human rights articles] are picked out randomly. So, we only explore the rights that come up.  What happens is the show will be different every time we do it. So, it's quite a challenge, but a lovely one. 
Silvia: Yeah.  And we haven't done the show many times, and we are still developing it.  We hope that in Lancaster we'll perform the piece to different types of audiences, and not just theatre goers.   
Yael: A few years ago, I made a project in a neighbourhood where the participants said, art is not for us.  We don't have the education or the knowledge. We don't understand it. And I think art should be for everybody. I really think that it can connect us all and remind us that we are human, and this can be done through creativity and playfulness.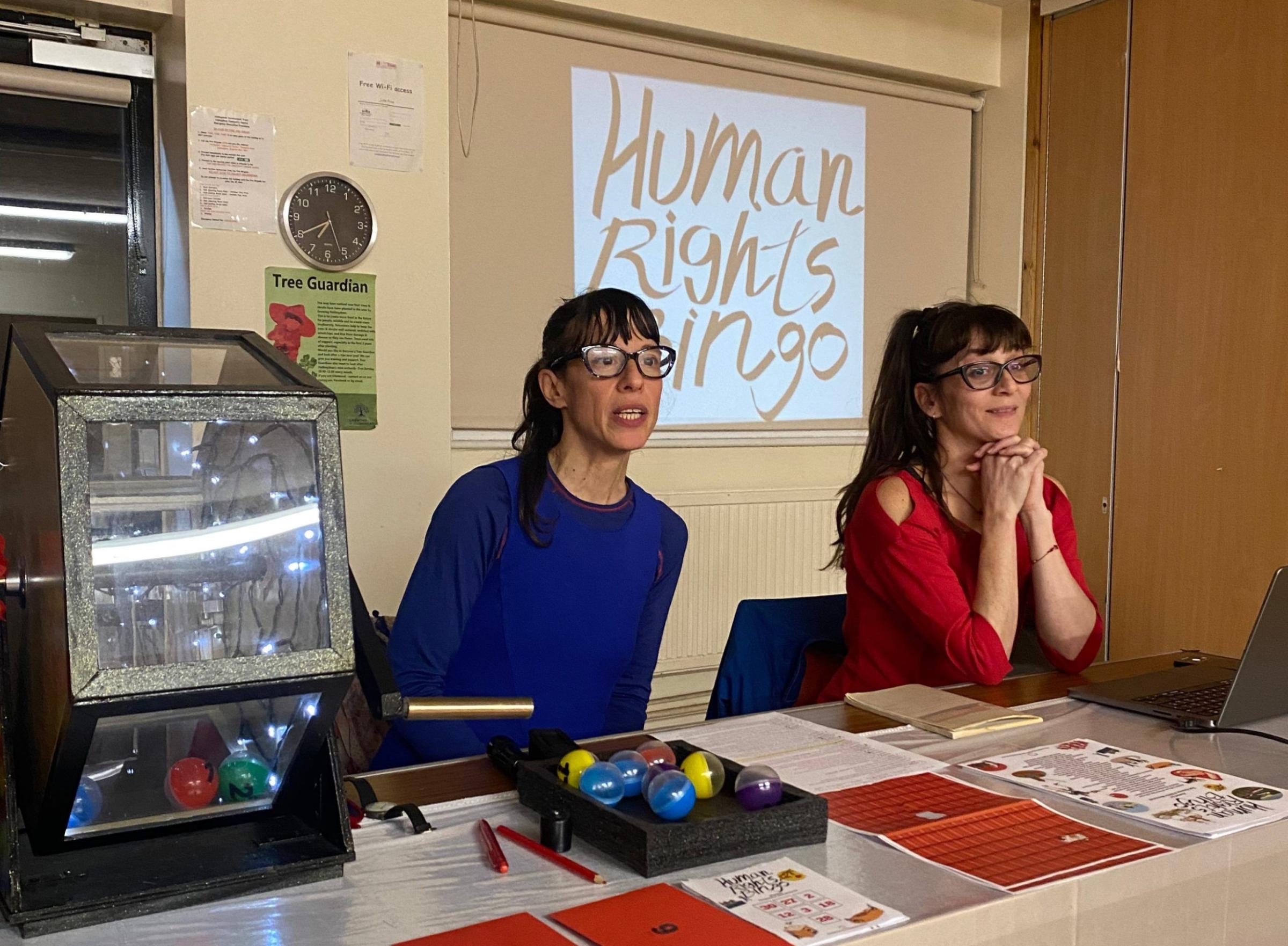 Alice: Did you choose Bingo because it feels democratic in some way?  Everyone knows how to play it, don't they?   
Silvia: We mainly chose it because we were drawn to the way Bingo and human rights are both 'games' of chance. But also, as Bingo is a game everyone knows, we can involve the audience and we can be playful. We can share ideas through play and humour.  And this format gives us the chance to explore just a part of the treaty. We can't do all thirty acts – it would take too long – and bingo means that we can explore just eight or nine at random.   
Yael: We really didn't want to make a show where we lecture people on human rights.  We wanted people to have fun but also have a chance to think about human rights too. And the audience can participate without being put in the spotlight, or made to feel silly, or responsible for what happens.  It doesn't feel like audience participation, that most people hate. And whilst you play, you discover.  
Silvia: It's not participation in the sense we're used to. People are really participating because we are playing together. That's all. 
Yael: It makes me think of a treasure hunt, because you make discoveries and find things out along the way. You go there, and you find this, and you open this, and you look at that, and we give a lot of clues, and the clues come together. 
I feel like over the last four or five years, my work has become a lot more political and socio-political. I've made a lot of stuff about meat, about climate, about rights, about immigration. And Silvia's work is political too.  We don't want to tell people what to think or what to do. We want to empower people. And it's a fine line. This work is entertaining and pleasurable, but at the end of it we hope people will go away with new thoughts and new knowledge. But we are still searching for the right balance of everything.  
Alice: So, the show has an element of chance, as the acts are picked out at random. What other structures are in place for the material? How much is set and known, and how much is improvised?  
Silvia: So, the acts come out of the tumbler machine – we have no control over them.  But we do know that each act has an image, and a video attached.  We know that someone 'wins' at the end.  In terms of the development of the work, this is something we are still working on. We are two characters that have a story and a dynamic, and we want to develop this further.  And we want the audience to feel that we have the whole thing under control, so they can feel safe and able to participate.   
Yael: It has random elements, but it's not chaos. How we structure it is important. And Silvia is brilliant technically, which is a relief, because there is a lot that needs to happen quickly from a technical point of view to make the whole thing run smoothly.   
Alice: Tell me what have you found most challenging about the process so far?   
Yael: It has been tough interpreting and understanding each act. They seem straightforward at first but when you dig deeper there is more to the acts than you think. A couple of them have taken a while for us to get our heads around. 
Silvia: And the other challenge has been making the show without an audience. It is a very participatory show, and in the rehearsal room, we have had to 'play' the audience by imagining their responses.   
Yael: Yes. We have this kind of imaginary audience. Silvia and I laugh a lot when we are playing our own parts and playing the parts of the audience members at the same time. It is like we are two kids in a room playing with our invisible friends.  
Silvia: Oh, yeah, we might need a lot of therapy after this show. 
Yael: So now we just need to keep putting the show in front of audiences so we can get real responses, especially audiences who are not from artistic backgrounds.   
Silvia: Yes, art or theatre audiences are a funny breed. Non arts people may respond differently, and we need to know what challenges this will bring up.   
Alice: So now for my last question. What have been your favourite participant responses to the show so far?    
Silvia: We have had quite a few, as we can draw from the zoom version of the show too – that really taught us a lot.   
Yael: In the last show we did, the audience really wanted to voice their opinion. They created a lovely dialogue amongst themselves. They really engaged. It was hard for us, as it was like herding cats trying to make them to shut up, but they were just so into the conversation, and that is exactly what we want. 
Silvia: Yes, we want to start conversations, and have the audience run with it.    
Yael: It was a really beautiful, surprising thing. I like it best when audiences come up with human rights that are even better than the real ones.  It's like poetry.  Mistakes can lead to something new, something exciting.  Someone invented the right to happiness, and it was so nice.  She was so excited, and it is these sorts of things that I love.  And I think that yeah, maybe children should learn this in school, there should be a class of mistakes, because we're so put under so much pressure to get everything right. But actually, if you don't get it right, it may be a different way of looking at things.   
Alice: I really like the idea of the right to happiness. And why do you think people should come and take part in Human Rights Bingo?  
Silvia: Well, first of all, it's going to be a lot of fun. You'll hang out with other people, do some fun games, and you get a chance to test your knowledge on Human Rights.   
Yael: I think it's fun to spend time playing with other people you don't know, I think it is a great chance to test your luck and your knowledge, there's a prize at the end that I think I'd be happy to win... and I think their brains might be two millimetres bigger when they leave the theatre!   
Alice: And what do you think audiences should expect when they come?   
Silvia: Some weirdness, some laughter, and some head scratching stuff.   
Yael: They should expect to be intrigued by some things they don't know, and to be entertained!  
Alice: Thank you so much, that was so interesting.  We can't wait to have Human Rights Bingo in Lancaster.   
The Universal Declaration of Human Rights can be found here. Book your free tickets to Lancaster University on Wednesday 8 March and Lancaster Central Library on Saturday 11 March.
---
Posted on 7th Mar, 2023