Shared Survival: A Catalyst for Conversation webinar
Lancaster Arts is hosting a series of webinars entitled Catalyst for Conversations. Directors of GRAFT, Ellie Barrett and Saul Argent, co-facilitated the first webinar How to Survive as an Early-Career Artist in the North West.
Lancaster Arts Volunteer, Sophie Parker, shares her response to participating in this event.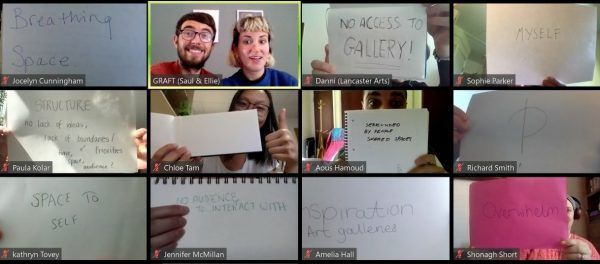 I'm not an artist; but the curiosity in me signed up to a webinar about surviving as an early-career one. I suppose I wanted to take any advice I could get on generally surviving in lockdown.
Sitting in a virtual waiting room with fourteen faceless names, I prepared to translate expected art jargon into something relevant to heritage. Ellie and Saul kicked off the session by acknowledging the difficulty of using terms such as 'early-career', which they described as 'riddled with problems' for artists. However, it was later revealed in a thumbs up, thumbs down activity, that only half of the participants self-defined as artists - I was not alone.
Their approach to changing how we think about problems and solutions is what struck me the most. This creative duo run GRAFT, a site-less arts organisation in Lancaster. They are experts in resourcefulness and thinking laterally, having curated exhibitions in their back garden, living room and even an old truck. Drawing upon personal experiences referred to in their presentation, Ellie and Saul encouraged us to reform our own 'problems' into solvable 'situations' during an interactive activity. That's when we found ourselves being questioned…
'What is impacting your work right now?'
Using old-fashioned pen and paper (as illustrated in the screenshot), we answered in unison, with no two statements alike. Ellie expressed that by switching these barriers into questions, we could then 'spark dialogue with each other' about how to survive in these uncertain times. The concept of survival is relevant whether you're an artist or not. A few questions composed by the participants are below for you to ask yourself. Write a sign and connect with someone. What would your question be?
How can we create against a constantly changing backdrop?
How do I stop putting up my own barriers?
Where is my audience?
How can I widen my frames of reference and be challenged
Artists, practitioners, creatives (and everyone in between) don't have all the answers but they do have the ability to recognise barriers and the opportunities often hidden within situations that at first, seem insurmountable.
Writer's bio: Sophie Parker is studying History in a Masters Programme at Lancaster University. With a background in radio journalism and a love of heritage, she's been assisting the Lancaster Arts team working with the Art Collections work at the Peter Scott Gallery. We are lucky to have her!
---
Posted on 2nd Jun, 2020