Traces
José Garcia Oliva
Traces is a year-long research-based project sculpted by conversations with cleaners at Lancaster University and artist, José Garcia Oliva. José describes how the project came to be.
There was this woman working as a cleaner and receptionist, and some people did say hi when she was working as a receptionist, but not as a cleaner.

Cleaner at Lancaster University

This collaboration started two years earlier as part of the DIY scheme in partnership with the Live Art Development Agency. This project, then entitled White Vinegar included a series of workshops for artists with the premise of "what it means to be clean in a post-pandemic world?". During these activities of open conversations and making, we discussed subjects such as gender, race and identity through the lens of cleanliness and its presence in art history. When White Vinegar ended, the team of Lancaster Arts and I were interested in continuing to keep these conversations alive, but this time working in collaboration with the cleaners at Lancaster University.

These conversations started in late 2021 at various locations across the campus from the library to students' accommodation. Cleaners' breaks are short; therefore, conversations happened while they were doing the cleaning chores in some instances. The discussions were open and informal, without structure and spontaneous. Out of these encounters, various comments described a feeling of being mortified about how people perceived their labour. One cleaner said: "I'm proud of what I do, but the other staff see us like, well, it's just a cleaner."

There was a common feeling expressed of not being recognised; all the repetitive and physically challenging tasks that the cleaners do every day was invisible labour. "People ignore us." It felt essential to create a dignified tribute to this work with high visibility and long-lasting permanence. Build a tribute by the cleaners and for the cleaners became the final aim to remind us all of cleaning as valued labour.

How do we make their traces of cleaning work visible? My approach was to provide a simple space with mops, blue paint, and canvas. In this way, the cleaners became collaborators in creating the artistic product; active agents rather than the subject to represent. The choice of the blue cobalt follows the colour code that cleaners use to clean public spaces. Moping with paint reveals the physical action and sequence when cleaning the floor and transforms this repetition to a personal creative expression. It was necessary for everyone to observe the canvas's white space and collaboratively decide where the mop brush went next, creating a collective composition.

This performative painting was made in the University Library, primarily by the library cleaners on a typical working day. More than 80 cleaners from across Lancaster University joined us, many of whom hadn't seen each other for the last two years of the pandemic. We created a social space next to the painting activity with tea and shortbread biscuits so that everyone could relax, watch or take part. One highlight was the biscuits with icing of edible images of painting mops. Most ate the biscuit but kept the icing topper as a souvenir. The making of the artwork and the conversations between shortbreads became a catalyst for a reunion, an awaiting celebration. The collective painting is now the legacy of all these conversations, and will be installed in the University's Library on 22 July 2022. The site calls for visitors' attention in a prominent position near the entrance, displaying in bright blue, the labour that maintains and supports the spotless learning environment.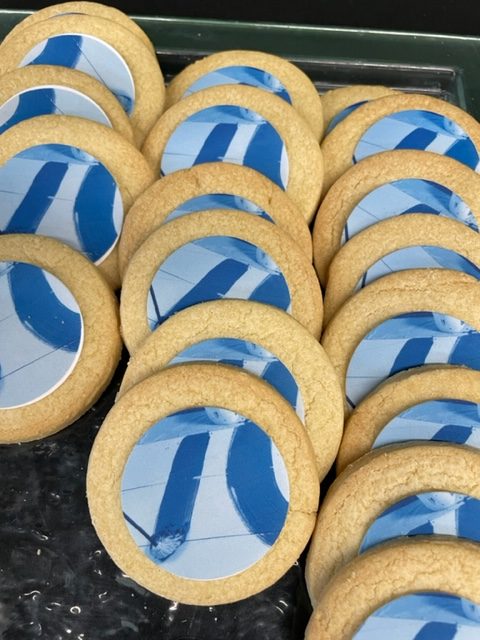 Cleaners are fundamental pillars to keep an institution like a university running and maintain the cleanliness for others to walk their paths. The lack of recognition or acknowledgement reinforces a hierarchy where their voices can be unheard. As one of the cleaners mentioned: "It sounds funny, but we always feel that we're not worthy, like our opinion doesn't matter."

At the start of the Covid-19 pandemic, a bright spotlight shone on all our key workers. As we slowly emerge into a post-pandemic world, this recognition has faded away as fast as squeegee stains vanish on glass. This contribution to society must be re-valorised. As one of the cleaners said: "Pay grade is not enough". It's not only about wages but to educate citizens to value, respect and reward their contribution to the spaces we live and work within. We must be aware that their mops and brooms are holding our ceilings from flooding into our very own mess.

–––

Jose Garcia Oliva is a Venezuelan research-based artist living in London. His work explores diasporic identity, labour and cultural heritage and exposes the collisions of these ideas through making conversations visible and organising participatory performances and/or public interventions. The outcomes of his work are usually the materialisation of these social exchanges and provocations shaped by the subject matter, site-specificity and the people involved. Oliva received his PhD from the Royal College of Art and currently teaches on the MA programmes at Kingston School of Art and Ravensbourne University.
---
Posted on 12th Jul, 2022