Julie Pinington Wright is a socially engaged photographer and a volunteer with Lancaster Arts. She recently completed an MA in photography at Bolton College, with this work with Breathing Space has formed part of her dissertation research.
Julie's Project 
Julie created a socially engaged photography project with the Big Kid Circus, who were stranded in Morecambe during the first UK lockdown over the spring and summer of 2020. Unable to perform, tour or travel and with no recourse to public funds, the circus struggled for basic resources. Click here to watch an interview with Julie.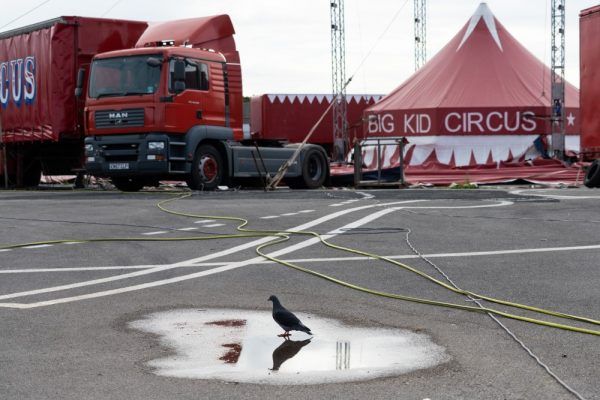 Julie lived alongside the Big Kid Circus community documenting their everyday lives during the pandemic and tried to amplify their pleas for support through social media. A personal connection between Julie and the circus members developed through the project and the multilingual circus founder Julia Kirilova acted as an interpreter, when needed. Documenting this temporary community in her hometown was immensely important for the artist.
Julie says: "I left home in my camper van to move in with the circus (true story)…The circus performers are from all over the world, they have been turned away by their own governments during this time, receiving no financial support…the isolated artists tell me that had it not been for the kindness of our community they would have starved, they will be forever grateful to Morecambe…"
Learning and Next Steps
This work formed part of Julie's final project for her Photography MA at Bolton College. Julie's daughter is planning to train with the circus, once international travel is possible again. A selection of Julie's images were featured in the Breathing Space exhibition at the Peter Scott Gallery, which was open to the public for a short time during lifted restrictions in late 2020.