Craving the Unexpected: A Catalyst for Conversation webinar
Rob Paul
Lancaster Arts is hosting a series of webinars entitled Catalyst for Conversations. The second 90-minute conversation in this series was From Nova Scotia to Morecambe: Creating work for non-arts spaces. Guests included; Alex McLean and Kate Cayley, Zuppa Theatre Co.; Philip Sykes, Derelict; Jenny Rutter, Super Slow Way; and Fabiola Santana, an independent performance maker.
Rob Paul, a Lancaster Arts volunteer, shares his response to participating in this event.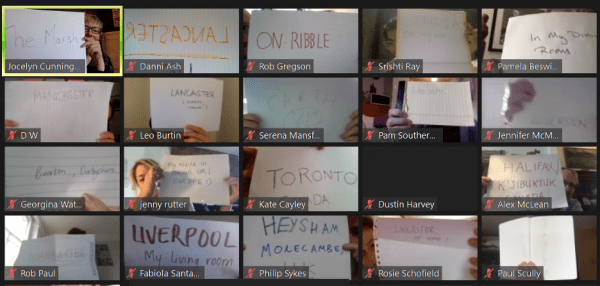 Lancaster Arts launched this webinar with the prompt: "Tell us about an arts experience that you have encountered in a non-arts space". The Zoom chat box flooded with memories, from "electro swing in a small market town opposite the chippy", to "Brecht's Galileo in a former bike shop". The imagination of international participants and guests was an indicator of the enlivening conversation ahead.
Alex McLean and Kate Cayley of Zuppa Theatre Co. spoke to us from Nova Scotia in Canada. Alex described their concept of ambient theatre as "a performance that takes place undercover in a given environment…" Their production This is Nowhere (2018), a series of 13 'undercover' performances, took place in "a van in a parking garage […] to a nook in a used clothing store".
The idea of 'ambient theatre' in relation to this project was "an inversion of how theatre normally relates to its space". Performances directed audience's attention on downtown Halifax, rather than a purposeful arts space which enabled endless combinations of encounters in environments, not dissimilar to the 'market town' or 'former bike shop'.
Philip Sykes of Derelict described encounters at St George's Shopping Centre in Preston as "happening upon an artwork". 'Hub spaces' occupied by Art of The City, Derelict's co-production group, helped to "develop a longer-lasting relationship with [their] audiences" because visitors felt welcome to stumble across the unexpected in everyday interactions. Philip sees public interactions in these 'hubs' evolving as they reopen under social distancing guidelines within the context of COVID 19: "any space needs to think about how it evolves and offers a supportive role in society… People need to have a sense of belonging". So, whatever the space, visitors may feel motivated to return; that this space welcomes and offers something whether a planned visit or not.
Jenny Rutter of Super Slow Way highlighted that "presenting work in everyday spaces, in which people feel they belong, gives it another layer of meaning". Jenny asked all the participants to consider how work can be offered in new locations and be reflective of the communities that these spaces sit within rather than "re-present art for a gallery in a park".
Fabiola Santana, an independent performance maker, described the aspect of community and place as "one of the many layers of my work". A Home for Grief was developed with Lancaster Arts in 2019 and took place through a walk around the city, ending at the Cottage Museum, a great example of the enabling role that artists play to encourage meaningful and personal experiences.
The ensuing conversation explored what the nature of the public is now and the principles that can underpin this kind of work. Where does the control lie in the creation of work in public spaces? Kate Cayley of Zuppa: "As a creator you can dictate how something unfolds. Something that happens in public spaces can provoke awkwardness and a lack of control." After all, the audience does not know necessarily who is a performer and who isn't. Everyone present could be playing a part in the event. As with Zuppa's work, how can a whole city be the site for performance, an opportunity to "experience the city poetically"? It can mean "paying attention to things in a different and more intense way."
Finally, there is a craving for the unexpected. A participant expressed in a closing thought that "there has to be a place for taking audiences to spaces they don't expect giving them opportunities to see the world in a different way". It is evident from this conversation that these spaces do exist in all our cities in very different ways, and it is how arts professionals use them to engage with others, that is now more important than ever.
Writer's bio: Rob Paul is a Film Studies student at Lancaster University. He has been a Lancaster Arts Front of House volunteer since February 2020 and is looking forward to volunteering with us again face to face. He intends to apply his arts experience to a role in film or theatre production after he graduates.
---
Posted on 15th Jul, 2020