Jacuzzi Conversations
How do ideas flow? How do we create conditions for collaboration? How does new work happen? How might we create new rituals?
Lancaster Arts Curator, Miranda Stearn, introduces Jacuzzi Conversations, a week long residency at the Peter Scott Gallery, with artists Jez Dolan and Garth Gratrix. The artists are spending time together in the current exhibition, 'A matter of age?', having conversations with one another and with visitors as they generate ideas for a joint project with Lancaster Arts in 2023 on the theme of Ritual. The artists have worked together and with Lancaster Arts previously, and this residency provides the opportunity to further develop their collaboration.
Often, artist residencies happen behind closed doors, creating space for experimentation and creative development away from the public eye. Instead, this residency is taking place in the public gallery space itself, during opening hours, in the context of our current exhibition, 'A matter of age? The Peter Scott Gallery Collection'.
Initially, the plan had been for Dolan and Gratrix, two Queer artists separated by a little short of two decades in age, to curate each other's work as part of our season exploring Age and Ageing. Instead, conversations led us towards something more collaborative rather than simply reciprocal – a project that would build over the course of a year, bridging our current focus on Age and Ageing with our 2023 theme of Ritual.
Situating the residency in the gallery results in a particular kind of thinking aloud. Each day, the artists interact with the space, the artworks on the walls, and the visitors, in different ways. Gratrix's 'Shy Girl…' beach towels appear and disappear over the balcony railings, everyday objects that invoke invitations to rest, reflect and prepare for what is to come. The paint colour swatches Gratrix has used as sources of found language in pervious works, including 'The Coast is Queer' (on display), are matched with the collection art works in the exhibition.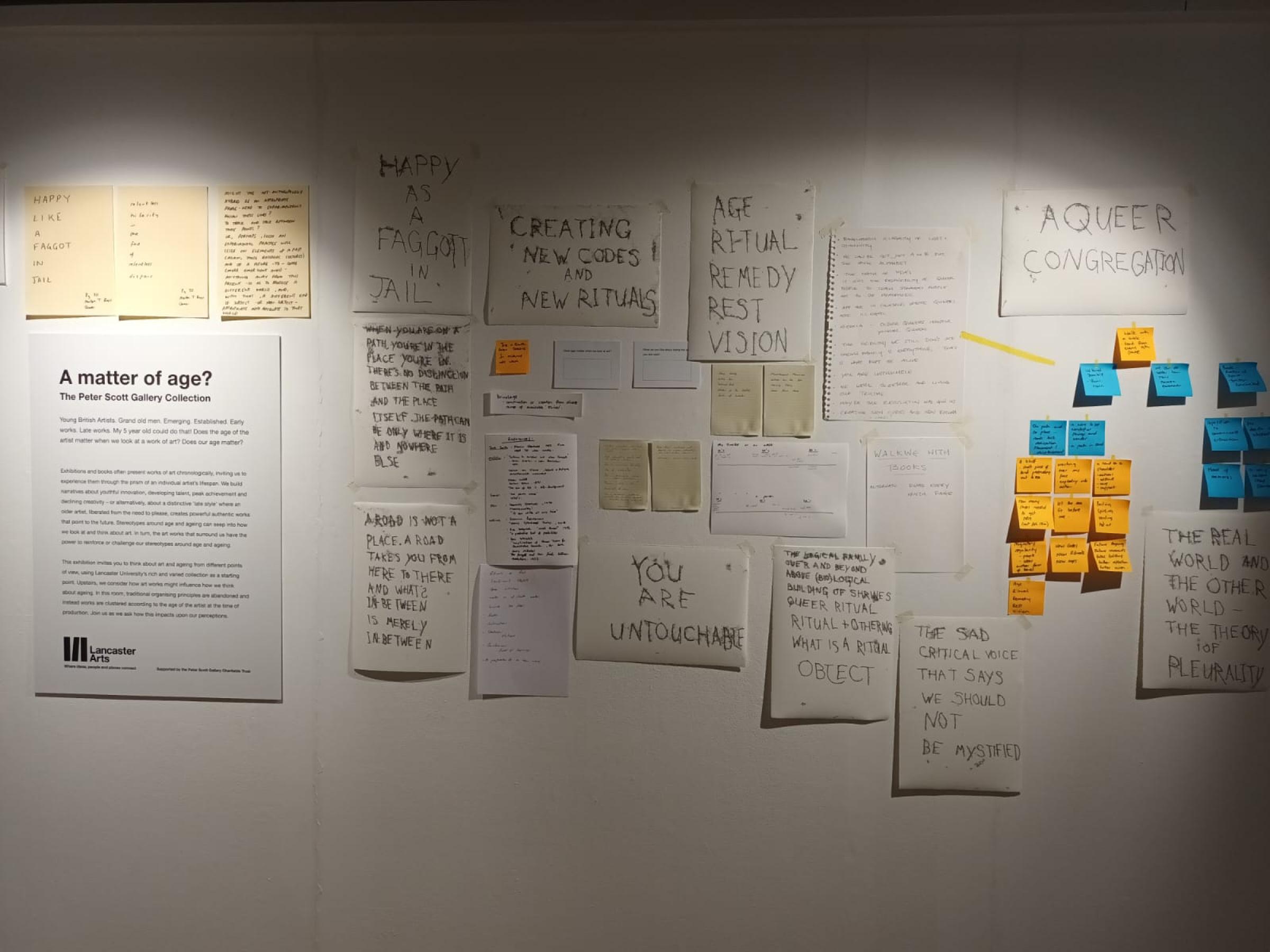 A wall fills with post it notes and monoprints created by Dolan, capturing words and phrases from conversations or drawn from the reading matter piled on tables. The artists pace the space, reading to each other in a pattern determined by the 'nine inch rule' - a rule which began from an intimate line of questioning on a popular gay dating app, which Gratrix reclaimed as a means to build, question, and explore relationships and space/s.
This explores how restriction can create liberation. For Gratrix, this has become an important parallel to understanding and exploring one's own queerness in a world that it might not always fit. Conversations occur with students, other artists, and visitors, talking about age, ageing, ritual, and queer experience in relation to all of the above. Gradually, ideas form.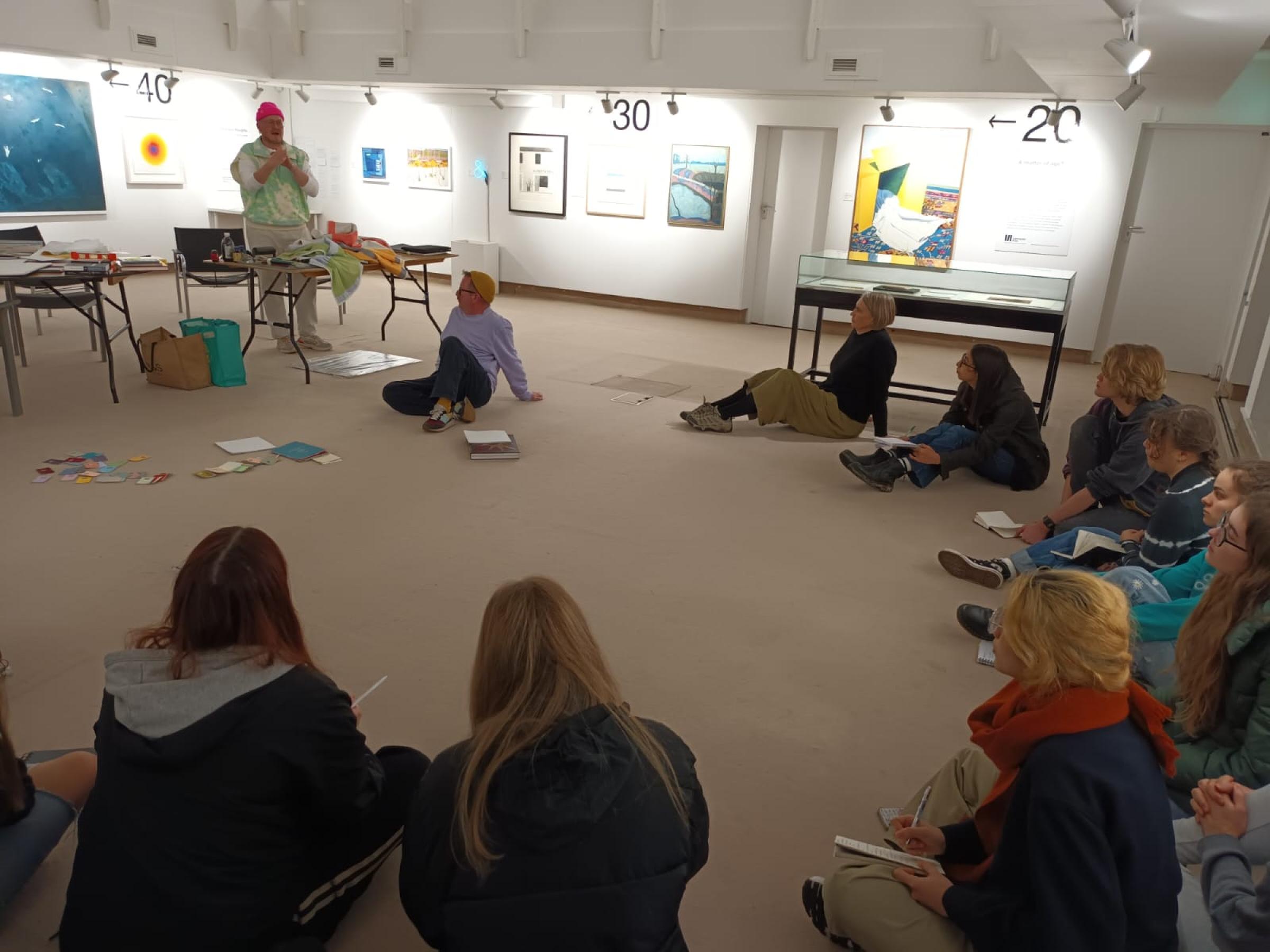 Why Jacuzzi Conversations? A key aspect of the residency has been about creating conditions for creative thinking – and recognising that rest and care are important parts of this. The artists check in on one another's state of mind, observing and supporting one another. We are also interested in how a different physical environment could enable ideas to flow. And so… for the final two days of the residency, the gallery space will be further transformed by the addition of a hot tub, which will become the venue for further thinking aloud.
At the moment, we are four days into the residency. Words and phrases are appearing on the wall. AGE RITUAL REMEDY REST VISION. CREATING NEW CODES AND NEW RITUALS. A QUEER CONGREGATION. HOW DO YOU MAKE A QUEER RITUAL. On Friday 25 and Saturday 26 November, the hot tub will be fired up and the artists invite visitors to listen, share and participate in their conversations.
Following the residency, we'll be reflecting with the artists on next steps as we shape new work and new rituals in 2023.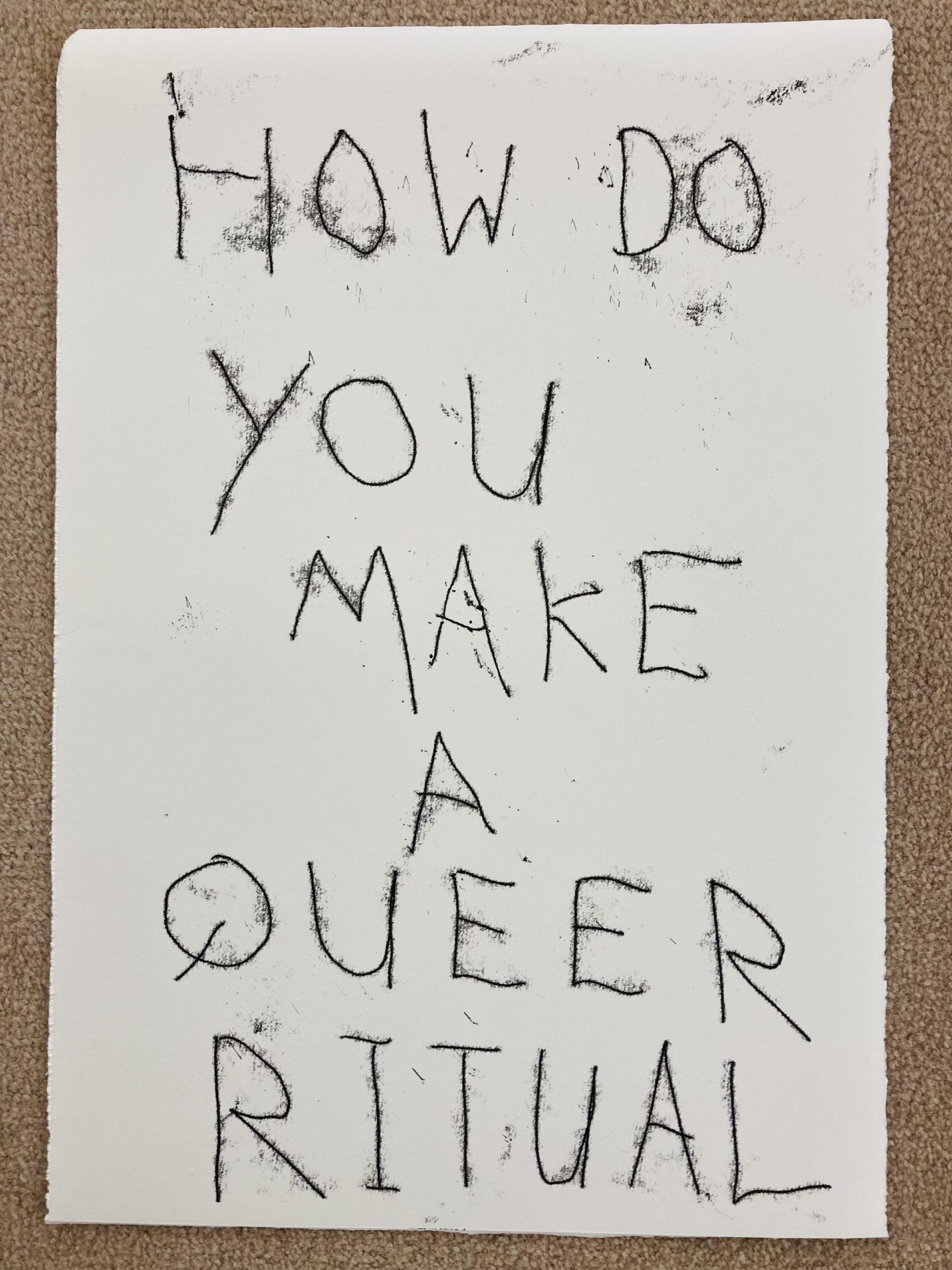 ---
Posted on 25th Nov, 2022