Out of Hours: Research and Development
Artist José García Oliva began working with Lancaster Arts while we were still living in the shadow of the pandemic. Getting to know the Lancaster University community at this moment of disruption, transition and resilience, José developed Traces, a collaborative project that made visible the crucial but sometimes overlooked labour of cleaning staff. You can read more about Traces in this previous blog, and visit some of the outcomes which continue to be on display, taking pride of place in the stairwell of the university library. 
In early summer 2023, José returned to Lancaster to consider where he might take these ideas next. He reconnected with colleagues across the university as well as opening out the conversation to consider a wider range of the roles that keep our community functioning. In this blog and associated sketchbook images, José shares the experiences of this recent period of research and development. 
****
José reflects: 
A year has nearly passed since the "Traces" project began. I recently returned to Lancaster for a visit. In my discussions with the Lancaster Arts team, we've observed a growing interest in how "Traces" could serve as a catalyst for dialogue with other teams within the university, particularly those responsible for the operations which underpin the smooth running of the institution. This dialogue with cleaners, security staff, porters and those who oversee these activities aims to collectively question and underscore the importance of key workers who keep each building operational. It's during these conversations that the importance of an inclusive environment becomes strikingly clear. By celebrating these individuals, we foster feelings of reward and solidarity. Once the benefits of this approach become evident, it seems that everyone wants to be a part of it.  
We wanted to consolidate recognition of the value of this work across the university through additional participatory works involving key university workers.  Traces served as a reference point during my visit, and helped to build trust in order to navigate the various levels of hierarchy within the institution. This context has given me a clearer vision of how to move forward to the next stage.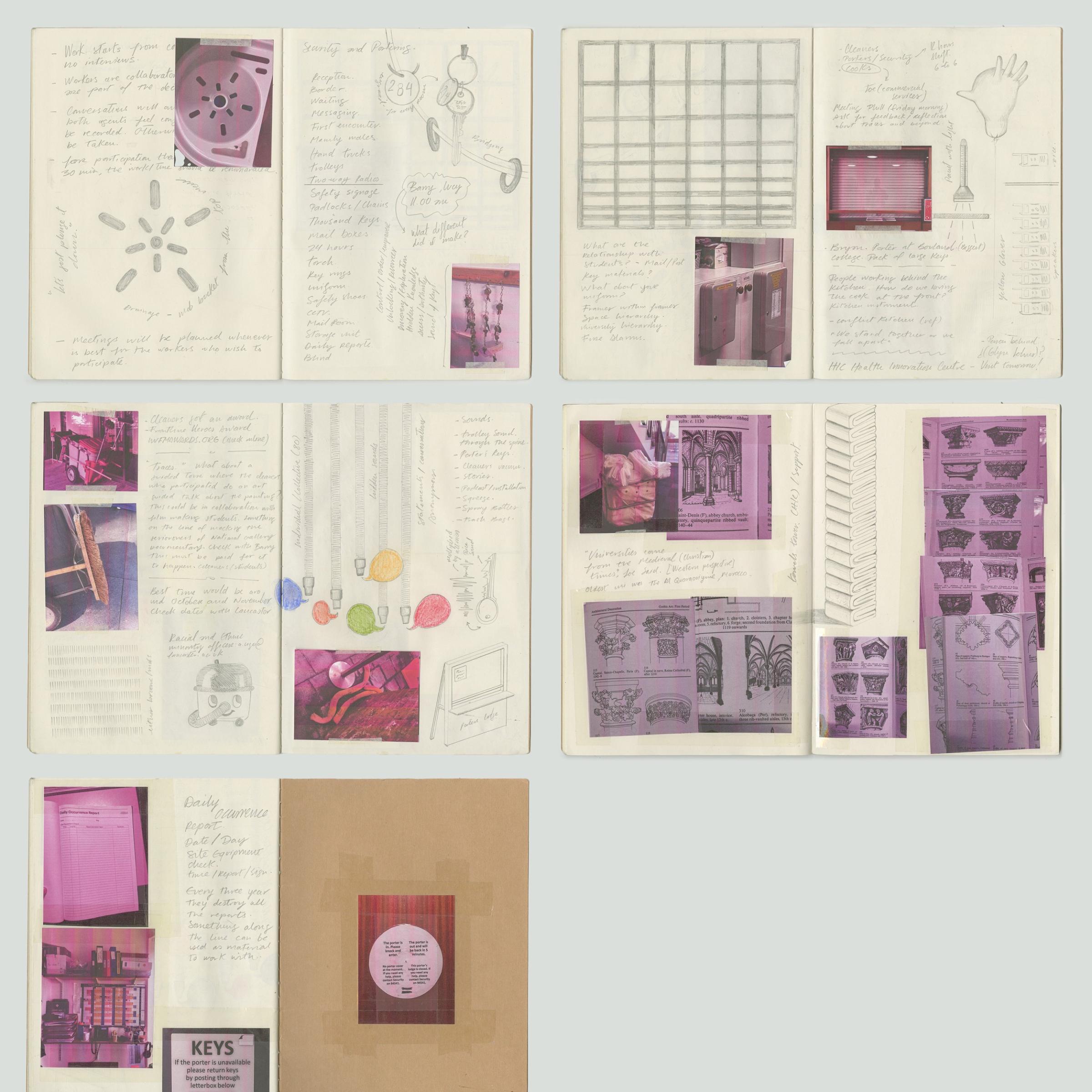 During my latest visit, I had a conversation with Juli, one of the cleaners at Lancaster. She expressed a sense of ownership after a painting that she participated in making was displayed. "It's nice to see it up on the wall; I was part of it." Juli and the cleaning team were also recognised and honoured with the IWFM – Frontline Heroes Award. One might question whether such recognition is sufficient for these demanding jobs, or if the collective art-making gesture has brought about any change in working conditions. Although the impact is difficult to measure, what I firmly believe in this context is that recognition, inclusion, and establishing a platform for dialogue are just the beginning, but the beginning fuels what comes after. Art making is not the ultimate goal, but rather a call for acknowledgement and a catalyst for action – it works as a spotlight, and we can only solve a problem if we can see it.   
At present, I have notes, sketches, sound recordings, and conversations. These resources are enough to initiate the next phase of work and can identify other variables to consider as we collaboratively build something to sustain these critical conversations. I have no idea what the final outcome will be - that's the beauty of collaboration. At this point, all I have is an intention. The journey from intention to outcome is punctuated by gaps that will hopefully be filled through more visits, conversations, time and the making of art.  
Within these notebook pages you will find an eclectic collection of objects, signs, notes, and captured moments in a variety of forms from different places. This mosaic of elements illustrates how I initiate my work, often without a clear vision of the final product. Immersing oneself with an intention, yet without a defined direction, is a pivotal step in my early research process. My approach is rooted in meticulously gathering every nuance, sound, and feeling from a given space and its inherent ecosystem. This practice aids in deeply understanding both its immediate context and its shared realities. It's in decoding these nuances that the unseen connections become apparent.  
José will be returning to Lancaster University in early November to take forward some of these ideas – come along to the Jack Hylton Room, Great Hall Complex, Lancaster University between 9am and 6pm on 8 November or email j.cordingley@lancaster.ac.uk  if you would like to be involved in his new commission: Out of Hours. Work created during Out of Hours will be shared in an exhibition taking place at the Peter Scott Gallery, opening 22 January 2024. 
---
Posted on 2nd Nov, 2023